Who is this lion that has made a name for one of the smallest departments in France?
You have undoubtedly heard of him before… He is our favourite feline, impossible to miss, who has been watching over the town for almost 140 years. Our Lion leaves no one indifferent, from those born and raised here to people just discovering our home. As the symbol and guardian of the town, he is also a visual marker… and even an opportunity for an urban safari.
The Lion of Belfort is a monumental sculpture measuring 22 metres in length and 11 metres in height, created by Frédéric-Auguste Bartholdi, a famous Alsatian sculptor between 1875 and 1880. It commemorates the town's resistance to the siege laid by the Prussians during the Franco-Prussian War (1870-1871). It was a memorable event for the town, because its population's heroic struggle kept it French, unlike neighbouring communities in Alsace.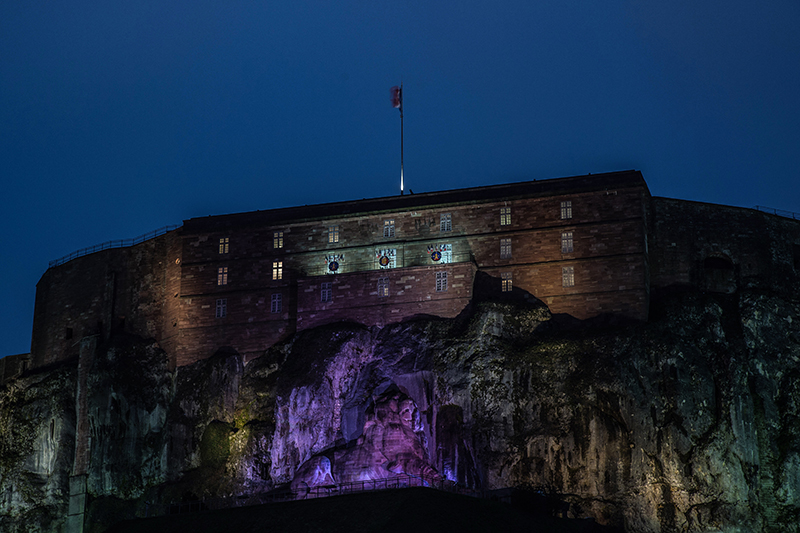 For Bartholdi, the choice of location was of vital importance: "The monument needs to be in a prominent position and identified with the town". Out of the blocks of pink sandstone, carved and assembled against the limestone cliff, a powerful animal was born as a symbol of firmness, resistance and valour: "The monument represents, in a colossal form, a lion feeling pestered, cornered and terrible in his fury…". It is not however the Lion of Vengeance. The big cat's attitude was meant to "glorify the energy of the defence" rather than recalling a victory or a defeat. A section of the Museum of History retraces the full thought process and development of the sculptural project.
Facing west, Bartholdi's feline looks out towards its cousin across the Atlantic, a gift from France in honour of the centenary of US Independence: the Statue of Liberty.