The Citadel and its fortifications known as impregnable have significantly changed over the centuries.
Offer you an historical walk in free access
Access to the Cour d'Honneur (main courtyard) climbing the paved tunnel and the drawbridge door. There, if you want, you can enjoy a gourmet break at the coffee-restaurant. A traditional cuisine from Franche-Comté is served for lunch, for the greatest pleasure of your taste buds.
Continue your tour towards the panoramic terrace: live the 360 ° Belfort experience! A breathtaking view on the whole fortress, the landscapes and the surrounding forts.
Download the brochure

Stride the Grand Souterrain (vaulted gallery), medieval ditch recovered by Vauban in 1749. Travel over the centuries entering into this underground that could house more than 1,000 men during big wars. This place was warmed by 6 big chimneys, today brought to light, making the place magic.
Go to the east to discover the replica of the Tank Martin, famous for the assault of 1944. The Lieutenant Martin died on the 21st November for the liberation of Belfort in its assault tank "Le Cornouailles", on the Miotte hill.
The heritage wealth
History Museum of Belfort
The History Museum of Belfort is in place of the old pink sandstone barracks, at the summit of the Citadel. Enter to travel through the ages. You will see some historical, archeological and ethnographic collections. Admire also the area dedicated to Bartholdi's work. A perfect idea to know the secrets of Belfort.
Bartholdi's Lion
More than a symbol, the Bartholdi's Lion is the emblem of the city. To fully enjoy the view on that majestic monument, go on the Lion's terrace, it is opened all the year.
hours and prices
Enter into the new dimension
A new experience: the visit in augmented reality.
The Citadel is modernising itself! Wander it thanks to your smartphone. Get back in Belfort history, immerse yourself into some reenactments, some films, some interviews that will be at your disposal. Make your Citadel visit a new experience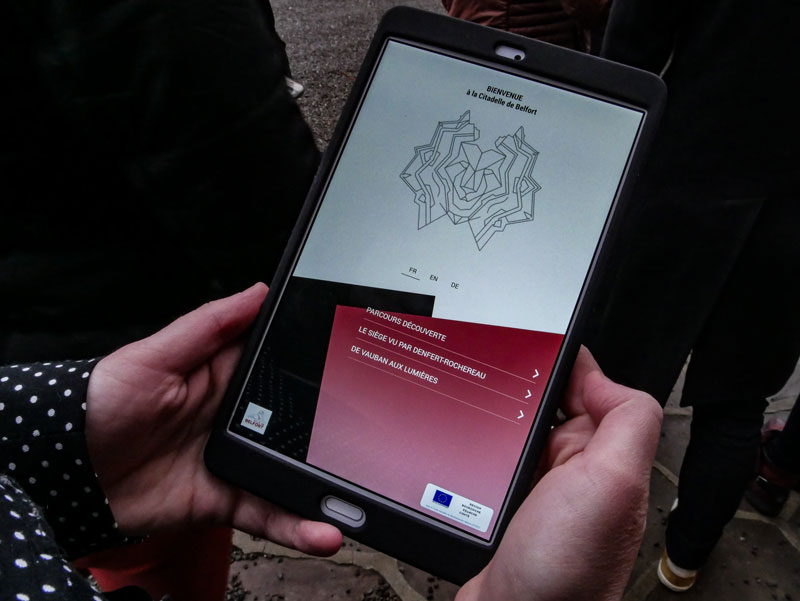 The Citadel never sleeps, it reveals its secrets over the year and even offers you some various animations. Every year, in summer, the Citadel plunges back into a period of its history with the Living History Festival. This is the opportunity to see some reenactors dressed in time clothes!