Tranquility seekers will enjoy walking around the pond or simply relaxing on the banks of the Etang des Forges
Extended on 34 hectares and created by the Human during the Middle Ages to overcome the water scarcity, then it was used for the functioning of the forge. That's why it is named like this today. It is located a few minutes away from the city centre of Belfort, at the foot of the Miotte tower.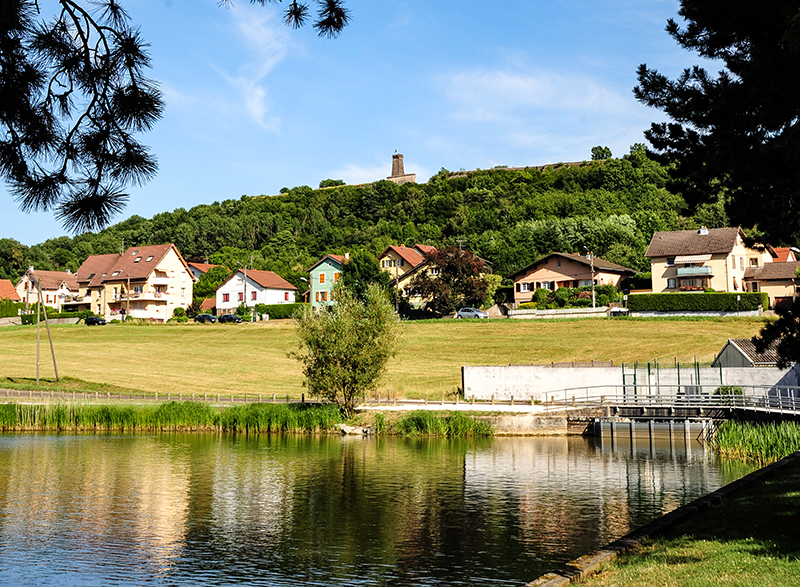 The spot to be green
Are you looking for the favourite place of Belfort inhabitants to go jogging or biking?  You have certainly found it! Stroll at your own pace along the Forges pond banks. Walkers or expert hikers, you will be able to fully enjoy this walk accessible to everyone thanks to its little elevation gain. You can even rent some electric bikes at the campsite!
The Roselière trail
Continue your walk and explore the pond crossing the footbridges, the wooded areas, the wet pastures and the reeds. Some indications about fauna and flora are proposed to accompany your walk on 4 km.
A nature reserve
Beyond the certain beauty of the place, the Forges pond is a natural and preserved site. It is by the way classified ZNIEFF (Natural Zone of Ecological Interest, Fauna and Flora). That is the reason why the LPO (Birds Protection League) set up a bird observatory. Many species are living close to the pond, others are taking the zone as migration corridor. About 150 species are visible over the year.