Try and visualise the geographic location of the Territoire de Belfort and dive back into the great wars experienced in France during the 20th century.
French military cemeteries bear a mark, that of our history, military heritage, remembrance and commemoration. They are the memory of a time when so many men died in the field of honour to protect their homeland.
As Victor Hugo said "Remembrance is an invisible presence"
Le cimetière des Mobiles
Today, the Cimetière des Mobiles remains a discreet place. History however would have wanted it otherwise! During the 1870-1871 siege the many bombings made it impossible to access the Brasse cemetery in the city.
In view of the growing number of inhumations, the area known as Le Pré Gaspard (today's Cimetière des Mobiles) on the slopes of the Justice hill, was chosen as the last resting place of the deceased.
No less than 956 Garde Mobile soldiers are buried there. For more than 40 years, the Cimetière des Mobiles has been the place for all the patriotic commemorations.
Did you know ?
The obelisk in Vosges sandstone at the centre of the cemetery was once the monument in homage to Belfort's protectors. Bartholdi's sculpture would later fill this function and become the emblem of Belfort. Since that time the Cimetière des Mobiles has lost in visibility but remains a historical place.
The national cemetery: Les Glacis du Château
It was inaugurated in 1924 in the presence of 1870-1871 siege survivors. There were originally 876 graves of French soldiers killed on the battlefield in the cemetery. The intention was to gather in a dedicated cemetery the bodies of the soldiers who died in military hospitals during World War I. Over the years and after a few exhumations, the last one in 1988, the World War I soldiers were gathered in this only cemetery.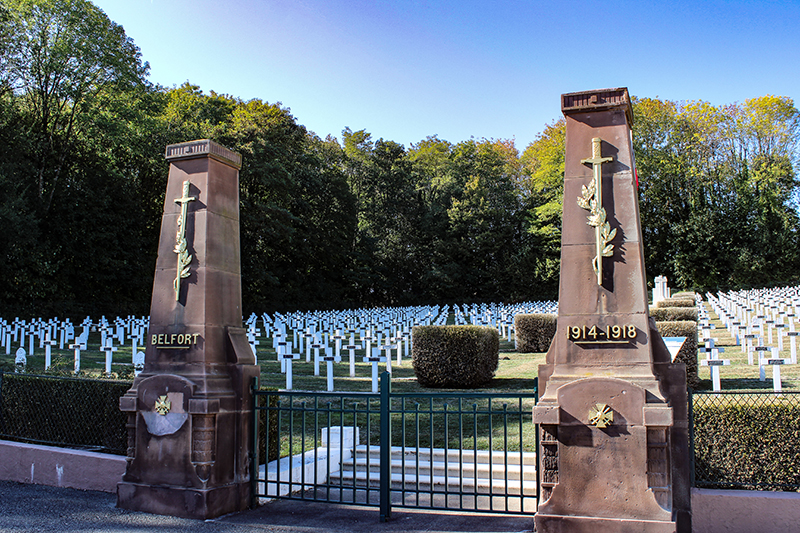 The Morvillars Necropolis
One hundred and sixty tombs of soldiers who died in Morvillars' hospital are gathered in that cemetery.
A war memorial, which pays homage to the soldiers fallen on the battlefield, is erected here. This monument is a reconstitution in pink Vosges sandstone of the Lantern of the Dead. Standing eight metres high on a 1.2-metre square base, it is crowned with a Greek cross.