Visiting the city of Belfort without going up to the Justice and Miotte hills is unconceivable! As you walk there travel through time and tread these places full of history.
Since the Middle Ages and over the course of battles past, Belfort has become a hotspot for military strategy. The Citadel was built to protect the city. Faced with an artillery getting more and more powerful, it was necessary to ensure the safety of the city from the surrounding hills. That is how the Justice and Miotte forts were built at General Haxo's request.
The Justice fort to get up high and tower over Belfort
This fort was erected in 1831 with limestone found on the site. It can accommodate up to 300 men and approximately 20 cannons. It responded to an emergency: to protect the city after the 1813, 1814 and 1815 sieges. It was situated on the Northeast flank of the entrenched camp and was linked to the nearby Miotte fort by the Porte du Vallon gate, built in 1842.
---
La Miotte, its hill, its fort and its legendary tower
The Fort of la Miotte, erected in 1835, completed the intervention of the Fort of Justice. Consisting of a Grand Cavalier and two half-bastions which give it its triangular shape, it housed 10 cannons, 200 men and had a powder magazine. It is also the place where the first and last salvos of the siege of 1870 – 1871 were fired.
The Tower of la Miotte, va true observatory and symbol of the city's resistance. Located on the upper platform, it has been damaged many times and even destroyed, but always rebuilt.
More than a hill, la Miotte and its tower are true symbols of Belfort.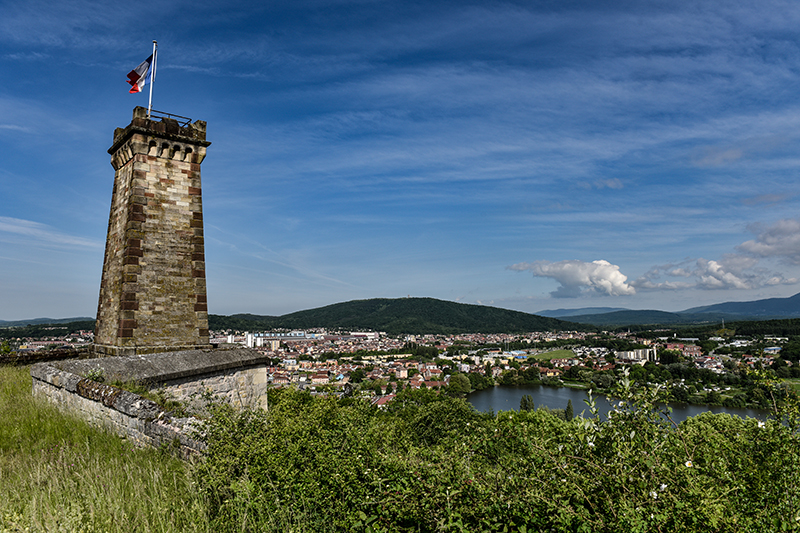 For many years in and around Belfort, people thought that the stork deposited children at the foot of the tower: hence the nickname "the children of la Miotte" or "Miottains".