Let yourself be charmed by the shades of pink offered by the Lion Territory. Observe the pink sandstone of the Vosges at its best.
Vosges sandstone – characteristic of the Vosges Mountains – is everywhere in the architecture of the Territoire de Belfort. It is this stone which gives the region its unique colouring.
But it is no matter of chance that the rock figures so predominantly in the local architecture. Sandstone is sturdier than limestone and so was chosen for the construction of a portion of the military heritage of the Lion's territory.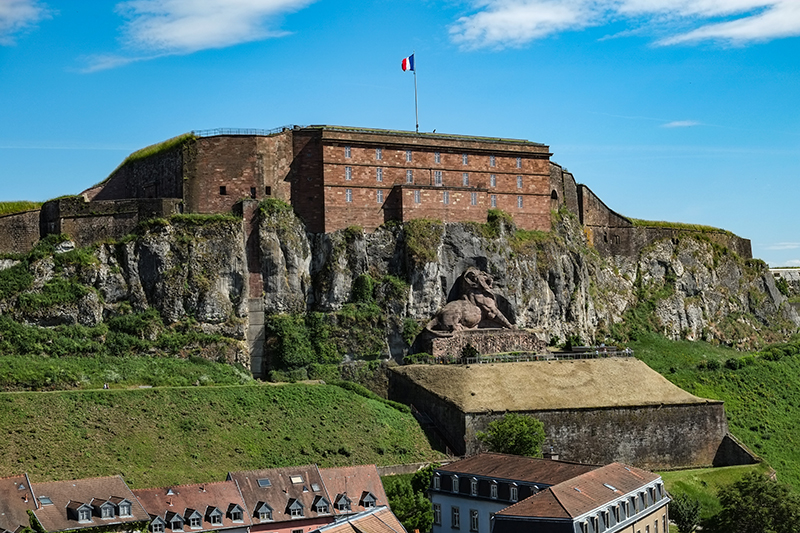 In Belfort
In fact, upon arriving in Belfort, the first thing you see will be a colossus made of blocks of pink sandstone assembled against the cliff below the Citadel: Bartholdi's Lion! Just like that stone, the Lion is an integral part of the town's identity. As you walk towards the famous fortifications, you will be able to admire the Porte de Brisach gate, likewise built of sandstone. The majestic gate leads straight to Belfort's welcoming old town.
After entering the old town, a short walk will take you to the impressive Saint-Christophe Cathedral. The building with all its subtle touches has been a listed Historical Monument since 1930. The pinkish rock is also the very essence of the old departmental train station and the synagogue. A true architectural gift, the synagogue has been included on the "additional list of Historical Monuments" since 18 October 1983.
Around Belfort
In Giromagny, Fort Dorsner is part of the fortified belt and was built in part with pink sandstone. This architectural masterpiece overlooks the Belfort Gap, offering visitors an unbeatable view of the Lion city and its surrounding area.
Travelling in the Territoire de Belfort means exploring streets full of colour and history. The pink Vosges sandstone is just one part of the experience…