Pink sandstone, the blue line of the Vosges, verdant forests, colourful façades and more: there is always something to surprise you in the various shades and hues of the Territoire de Belfort.
When people think of Belfort, they often picture an industrial town, or an old garrison town: cold and grey. How wrong they are! And how surprised to see all these many colours. In fact, it almost feels a little like Italy…
Colorissimo
Launched in the Lion city at the initiative of Jean-Pierre Chevènement (then town mayor), Operation Colorissimo (or "Colours in Town") came into being in 1986. The goal was to repaint the main streets' greying walls and façades in order to brighten up the town and, at the same time, the daily lives of its residents. No specific colours were imposed, although some rules were defined. For example, whites, greys and beiges were prohibited. Instead, the colours turned towards ash blue, Sologne pink, Colmar or Chartreuse green, as well as else Albigeois ochre and Périgord yellow. The result is undeniable: a wind of cheeriness began to blow through Belfort. In 1991, the town was awarded the "Colour Prize". The buildings' eclectic architecture has been showcased whilst its authenticity has been preserved. You can still raise your eyes today to wander through town seeking out the different colourful façades.
Belfort's Sundgau
On your way out of town, head for the Sundgau region, known for its lovely Alsatian houses. As a result of its history, the area has inherited the architectural style of its neighbours. For example, you will see magnificent half-timbered buildings, adorned with blossoming flowers when the weather turns warm, as well as landscapes studded with lakes and ponds.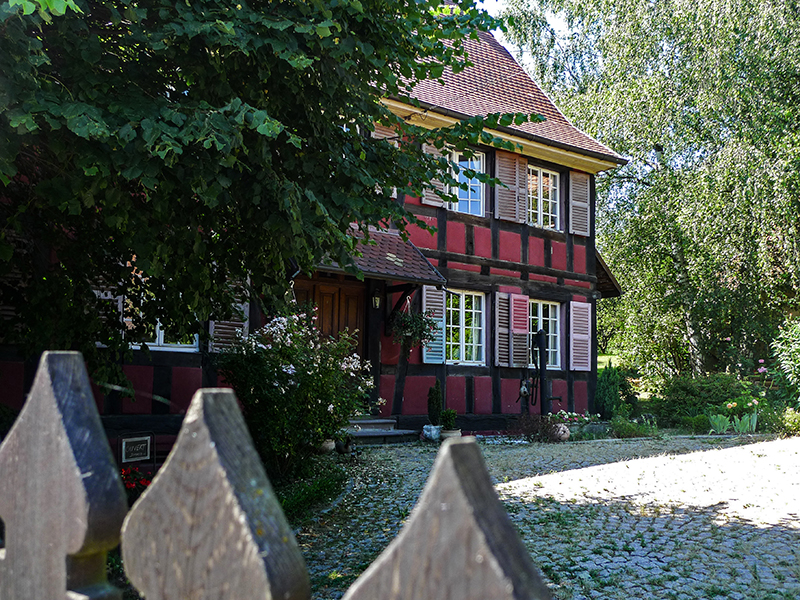 Must see
The villages of Suarce and Réchésy. To supplement your outings, head for the Museum of Crafts and Traditions in Brebotte, where you will discover the interior of an old half-timbered farmhouse, typical of the southern Territoire de Belfort.