Belfort is also worth visiting at night, under its brilliant illuminations. The atmosphere is unique and festive. In the summertime, the sidewalk cafés bustle, particularly after the heat of the day.
Once the sun sets, the town's bars and restaurants are there to welcome you with a friendly spirit which is all the better appreciated in the quiet of the night.
Belfort by Night is an unusual but amazing way to discover the town, thanks to the many lights projected onto emblematic buildings and monuments which will turn any stroll into a magical experience. It's all a matter of light and shadow. Let yourself drift alongside the Savoureuse River, admiring each series of colourful trees, terraces and façades.
From the Arsenal to the Porte de Brisach gate, the town's military heritage is sure to captivate you with its lights alternating between cold and warm whites! As for Bartholdi's Lion, standing majestic and proud in the starry night, you are more likely to see it adorned in pink or blue. Appreciate the lovely illuminated views in front of the Citadel's postern door and along the path leading to the Lion.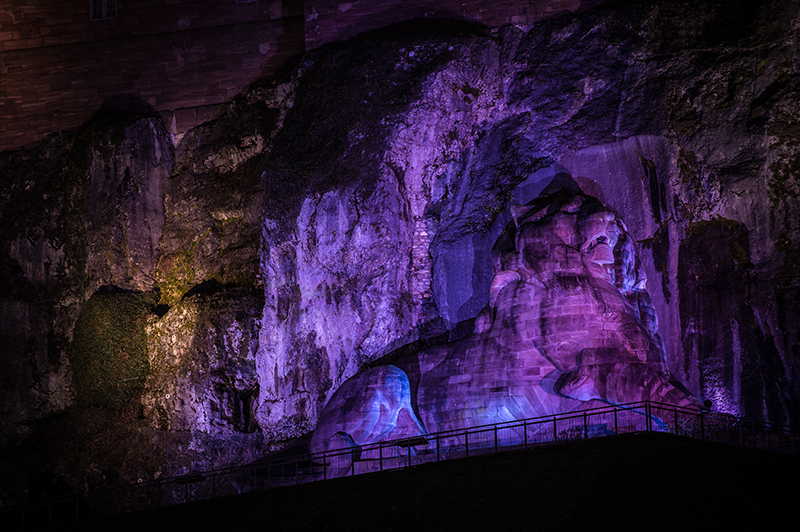 A number of events are arranged during the year to add even more texture to your night-time excursions:
– Pink October: the Lion in the colours of Breast Cancer Awareness Month
– In December, the Mois Givré ("Frosty Month"), find the magic of Christmas in the town centre!
Tours by paper lantern
– All summer long, the Festival d'Histoire Vivante ("Festival of Living History") will immerse you in the past of Belfort Citadel. Be sure not to miss Haxo Bass, the festival's EDM night!
– On 13 July, colours explode over Bartholdi's Lion during the fireworks display put on for Bastille Day
– Summertime tours of the Citadel by torchlight for a different perspective on the town